Barefoot Sunset Engagement Shoot, Glamis Sand Dunes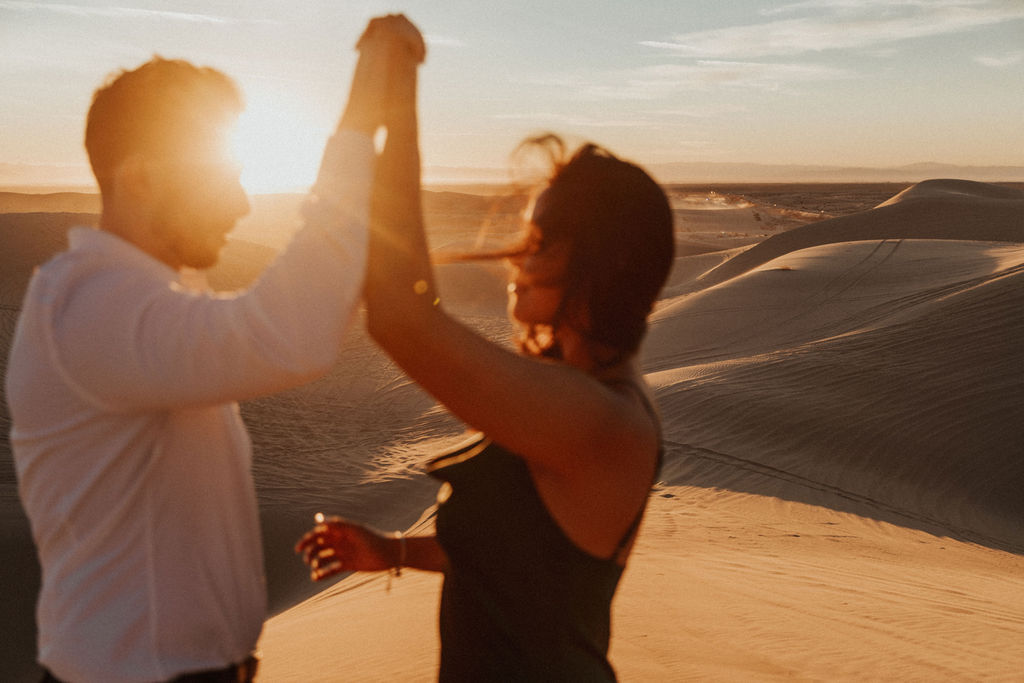 This engagement session in the Glamis Sand Dunes was so dreamiest evening!
Maria and Anthony were the sweetest couple. They were so easy and so laidback which made this shoot so enjoyable. We met up at the sand dunes a little before sunset. If you have ever been to the Sand Dunes you know it can get pretty crowded. The day of their engagement shoot turned out to be perfect! Besides the dune buggies driving around the sand, there were not many other people there. The weather was amazing! There was no wind which was a nice change from the many windy days I have spent at the dunes. As the sun went down at the end of this engagement shoot we got to see the most beautiful pink and blue sunset that lit up the whole sky.
I helped maria pick out her outfit and she had planned the perfect outfit for this engagement shoot. She wore an elegant emerald green silk slip dress but made it more casual because she was barefoot. Anthony wore simple black pants with a white button-up shirt. If you are ever looking for the perfect outfit for engagement photos, these two are a great inspiration! My friend
Bonnie
actually did her makeup and it turned out so stunning on her.
Maria and Anthony were such kind people and we had so much fun all night. Not to mention they look so beautiful together! We ran around the dunes playing and dancing all evening and it was the perfect night at the Glamis Sand Dunes.
I visit the Glamis sand dunes pretty often but I am always excited to shoot there! When you are at the dunes it always feels like you are in a different world and kind of like a little escape. These sand dunes give you that beautiful Moroccan feel right in California. I just love how the images turned out and I am so glad I could capture Maria and Anthony's love.