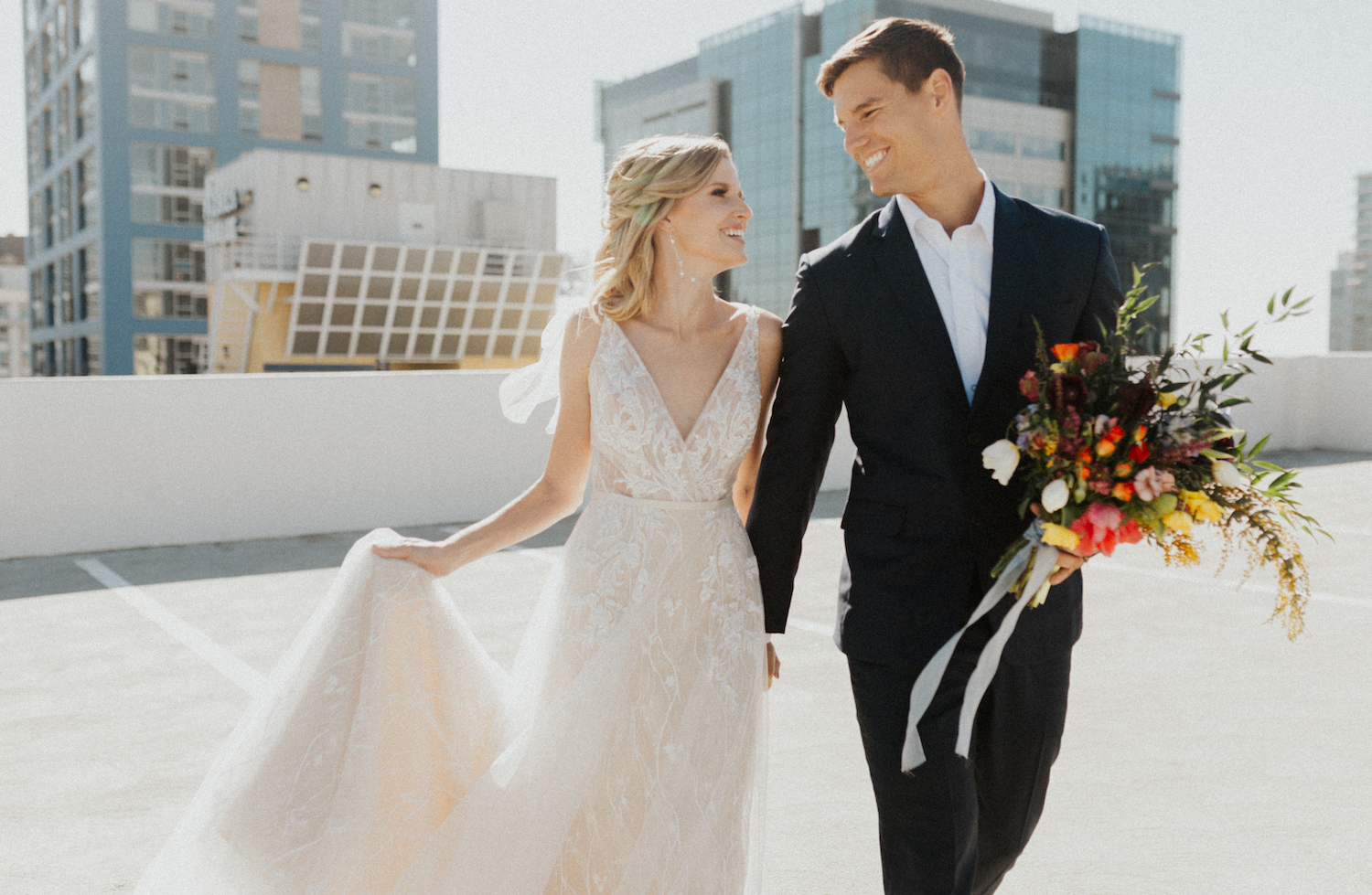 Nestled in the vibrant downtown of San Diego, Luce Loft is a contemporary gem for modern brides! This urban venue provides a perfect backdrop for couples who love the combination of laidback vibe and industrial aesthetics. When a Luce Loft editorial opportunity arrived, I am beyond excited to hop into the experience!
With a team of awesome wedding suppliers on board, the styled shoot oozed with a perfect blend of modern and rustic essence. The venue's minimalist architecture and high wooden ceilings served as a blank canvas to show off everyone's creativity.
In contrast to Luce Loft's moody features and industrial pipes, the team decided to fill the space with vibrant accents. For instance, the wedding arch gorgeously framed the couple with its vivid arrangement of roses, gladiolus, astilbe, and greens!
To match the floral arbor, the three-tiered wedding cake was decorated with pressed flowers of different colors. This saccharine creation was set on top of a wine barrel and greeneries to highlight its vibrant appeal. In case you're wondering, the lovely blooms involved are all edible!
As for the bridal look, the beige wedding dress looks exquisite with its elegant embroidery and airy romance. To complete the getup, the bride carries a bouquet that bursts with complementing colors of pink, yellow, orange, and green.
All of these editorial features created an atmosphere filled with contemporary goodness and vivid beauty. As a result, the industrial setup exuded with a colorful vibrance that looks great in photos!
Aside from the venue's indoor charm, we also maximized Luce Loft's proximity to the cool spots in the downtown area. We found a beautiful parking lot across the street, which is perfect for city shots and magical sunset portraits. I really love how the photos turned out!
Here's the fantastic team who made this editorial possible:
Posing for Profit Event: Mharris Studios⠀
Venue: Luce Loft
Hair/Makeup: Chelsea Rose Beauty
Dress: Diamonds & Pearls Bridal⠀
Models: Days with the Drawdys
Design/Florals: Christina Moore Design
Cake: Piggys Babycakes 2010
Don't forget to check them out!