Downtown San Diego Wedding at Skybox - Kieu + Eric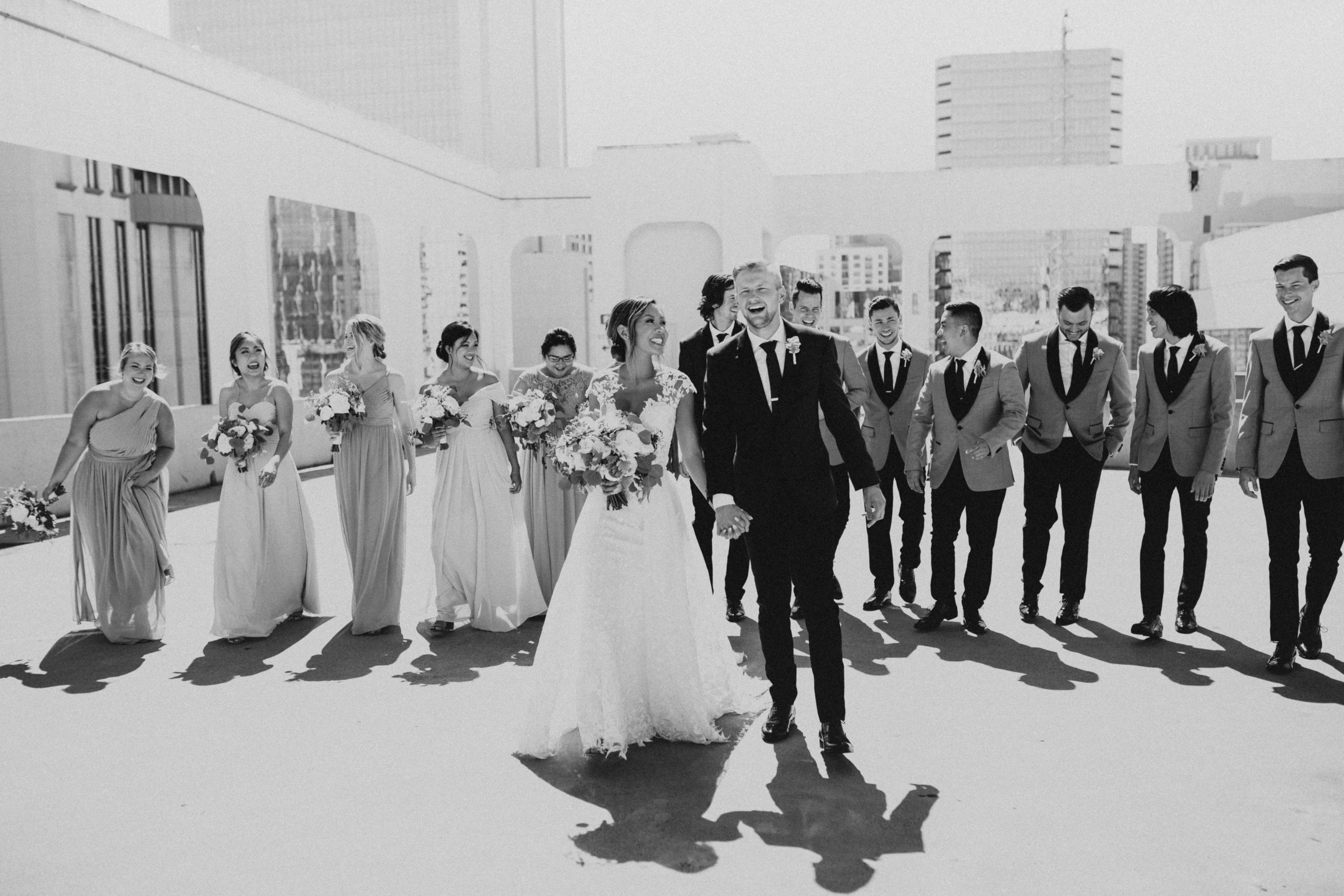 Back on August 3rd 2019 I got the chance to participate and photograph a San Diego`s couple`s experience during their wedding day. It was both overwhelming and exciting, as everything went down nicely and with a mesmerizing flair. I fondly remember this couple`s wedding due to their simplicity and naturalness, that permitted me to picture the best wedding photographs.
This couple stood out due to the fact that they weren`t seeking to catch my attention for a specific pose, but they rather stared into each other`s eyes, enjoying the moment. As it happens with every fairytale, they had a starting point in the day`s events that led to a unique background for their wedding photographs. They got dressed in a hotel, where they had their first look, too. Their emotions were more than obvious, yet they managed to hold each other up in a maze of reassurances and smiles.
As I am an unconventional photographer and I quite despise specific photography poses, we embarked onto a bus to drive us around San Diego. This was a fun experience, as all the bridal party, photographers and videographers participated, while the bus took us to distinct locations of my choosing.
The highlights of this wedding day photo shoot were at the beach stop in Coronado Island and at the parking lot in downtown. My purpose was to catch their naturalness in a set-up that was both full of hope and future, which is why the beach mixed beautifully with the groom`s and bride`s mood. Of course, the parking lot offered a more modern approach towards their wedding photos, as on the background can be easily observed the traditional downtown view.
The thing that I loved the most about this wedding session was the bride`s and groom`s choice to stop at a brewery for a couple of photographs and, as you might guess, a bit of beer tasting. It was called Belching Beaver and is located in North Park, CA. And you can tell from the several photo shoots of this wedding day that the brewery is what underlined the personality of this couple.
As the wedding is the most important day in someone's life, having an unexpected set-up such as the brewery, provided the best wedding pictures inspired by their day-to-day preferences. The couple then proceeded to the venue where they got married - Ultimate View at Skybox. The venue is gorgeous and has all the downtown views, making it perfect for unexpected wedding photographs.
The pictures I managed to get from this venue are a testimony of this couple`s true love, as you can easily observe their emotion while holding hands and starring in each other`s eyes. After the ceremony was over, they had their cocktail hour and reception on the spot. The rest of the time was beautiful and everything went down perfectly.If this story caught your attention, feel free to contact me to find out more about this girl behind the camera. And to tell you my secret: my photography is not about posing, but rather about that unexpected laugh or tear that might appear without notice during your wedding day.