Boho Styled Elopement in Laguna Mountains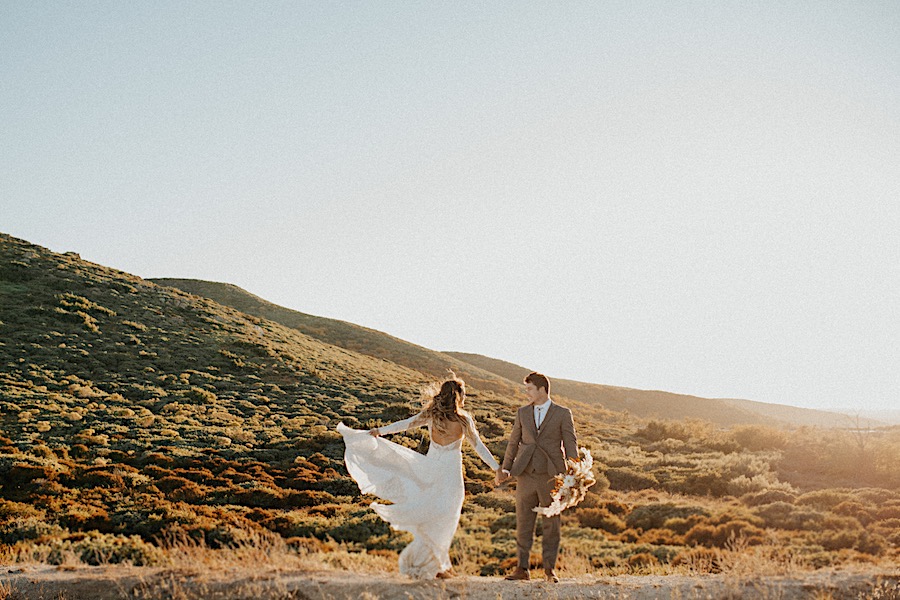 Surrounded by gorgeous sceneries and golden sunshine, the Laguna Mountain range is undoubtedly a popular choice for eloping couples. This Southern Californian spot in Julian is perfect for brides and grooms who want to intimately tie the knot while taking their dose of adventure!
Along with some talented wedding professionals, I invited my real-life couple friends, Jess and Brady, to do an elopement editorial in this mountain range. This beautiful day couldn't have gone better than I had imagined!
With a bohemian affair in mind, the whole team created a spectacular setup that fits the personal taste of an unconventional bride. From the three-tiered saccharine to the hand-painted stationery, every little detail of this styled shoot oozed with hippie-chic goodness.
In front of the mountains' rocky walls, the wooden installation was filled with an exotic arrangement of pampas, baby's breath, and dried anahaw. Set on top of the silk-clad dessert table were the golden candelabra, the gorgeous cake, and complementary spirits.
In a truly bohemian fashion, the team spread a picnic blanket filled with fringy pillows and wood-inspired tablescape for two. It's a cozy and pretty spot for an intimate alfresco celebration!
As for the couple portraits, Jess and Brady perfectly embodied the essence of a hippie-chic affair. The windy surroundings created a lot of movement, and the golden sunset highlighted the effortless chemistry of these two lovey-doveys. Their photographs are so magical!
With beautiful people and beautiful love, I am so thankful for the opportunities like these that make my heart so full. Here are the wonderful and generous people that made this happen ---->
Makeup: Bonnie K Makeup ⠀
Hair: Shelby Brownlow
Dress: Bridal Showcase⠀
Suit: Friar Tux⠀
Invites: Trademark Inspired
You can find them all on Instagram as well, so hit them up when you need them! :)