Backyard Tiny Wedding in Laguna Hills, CA - Rebecca + Kyle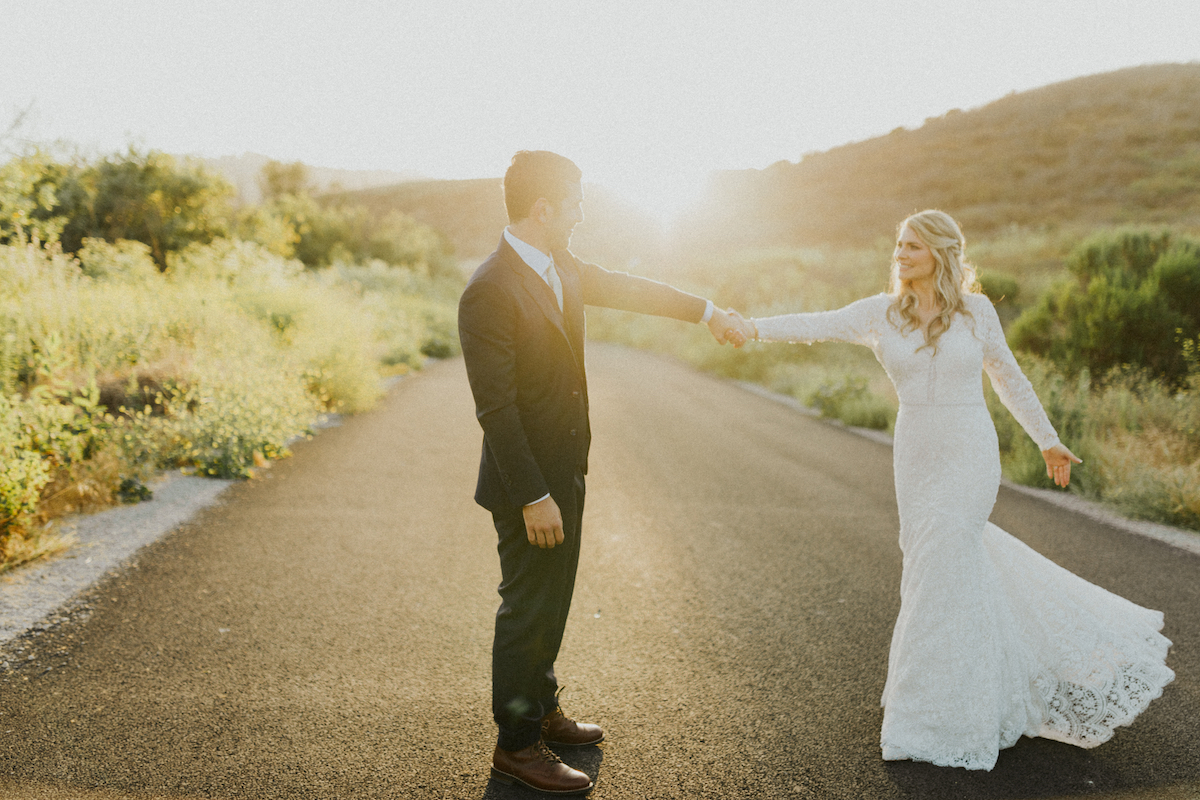 The pandemic might have canceled everyone's plans, but it cannot cancel one thing: LOVE.
Their wedding may not go as intended, but Rebecca and Kyle managed to fill their day with the most essential aspect of their relationship. With the presence of immediate family members, this couple celebrated their day with love and gratitude despite the circumstances.
Contrary to what they originally planned, Rebecca and Kyle opted for a tiny backyard wedding to observe the pandemic's standard safety guidelines. Despite having to move their big celebration to next year, this lovely couple was still radiating with enthusiasm and excitement during their intimate minimony!
As a perfect alternative to a big venue, the love birds opted for their parents' backyard in Laguna Hills. Spoiler alert: they made the right decision!
Aside from providing shade, the surrounding trees were also used for hanging the magical string lights around the space. On the other hand, the well-manicured lawn added an extra alfresco essence to the ceremony and reception. And oh, can we not forget how the patterned fences infused a more intimate vibe to this private function?
To maximize their guests' comfort, Rebecca and Kyle's ceremony started during the golden hours of the afternoon. The chemistry between these two is unmistakable, but what made this couple even more unique is their sense of humor.
Their friend served as their Zoom celebrant, but instead of having a mediocre virtual presence, Rebecca and Kyle added a hilarious twist to the setup. With an iPad acting as their virtual celebrant's head, the couple prepped an actual physical suit to serve as the celebrant's body! You can look at the funny ceremony pictures below to see exactly what I'm talking about!!
After the ceremony, Rebecca and Kyle did their location shoot by driving around the picturesque roads of Laguna Hills. With gorgeous sceneries and romantic sunset, the location provided an impressive backdrop for the couple's photos.
As the sun bid its goodbye, the night was filled with special conversations, delicious Greek food, fantastic music, and an intimate dance floor. The backyard was filled with so much camaraderie, and despite being one of the vendors, the couple and their whole family made me feel like I'm a friend. My heart is so full!
These moments are so special, proving that despite the inevitable circumstances that life throws at us, nothing can stop us from celebrating the beauty of love. And hey! In case you're wondering, you can definitely celebrate even in the comfort of your own backyard.
Here are the awesome people that made this wonderful day possible:
Flowers: Fifty Flowers
Cake: Penelope's Perfections
Rentals/Tables - Baker Rentals
Dress - Watters
Make up and hair- Flawless Faces
Musicians - Ocdamia Music Group